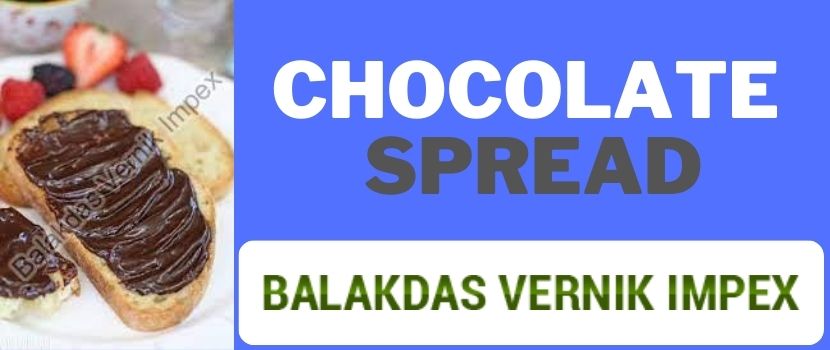 Chocolate is one of the most popular and highly consumed food products across the world. A buttery, creamy, chocolate-flavored smooth paste is everything that a chocolate lover could ask for. With the continuous development in the food industry, the makers have introduced chocolate spread in the market.
The chocolate spread is made from melting chocolate. This sweet chocolate-flavored paste is mostly spread on bread, toast, doughnuts, pancakes, waffles, and other similar grain products. This is also used as a dip for fruits like bananas, apples, and strawberries. You can also add this chocolate spread to your ice cream, shakes, or any other dishes. The spread usually contains cocoa and palm or vegetable oil and sometimes also contains butter, milk, sugar and additional flavors.
Chocolate spread from chocolate spread exporters India is packed with rich cocoa beans. It has a delicious flavor and fragrance which enhances the appearance, taste, and smell of any regular dish. You can use chocolate spread to prepare a quick breakfast, lunch, dinner or anytime snack. Indeed, the chocolate spread is a popular staple in many households. It's a great way to enjoy your chocolate while reaping the benefits of cocoa. Incorporating chocolate spread makes you happy because it has some natural mood-boosting properties. When choosing a healthy and good chocolate spread, you must look for reputable suppliers. Get a luscious cocoa-rich spread from chocolate spread exporters India and discover different dishes.
Market expansion for chocolate spread
In the past few years, significant growth in the revenue of chocolate spreads is witnessed. It has become one of the most popular choices for breakfast spreads. Earlier only children and young people used to consume chocolate spread. Now old age groups are also enjoying this spread which will boost the growth of the overall chocolate spread market. The increase in health consciousness among people has resulted in high demand for these low-calorie breakfast spreads.
In the western world, spreads are an essential part of traditional breakfast and are expecting high growth in other regions also, which will boost the spread market.
The chocolate spreads and peanut butter are slowly taking the place of the jam and marmalade. These spreads have become popular as breakfast spreads due to their high nutritional content and low fat.
The new brands in the market are providing tough competition to already established brands. They are striving hard to provide unique products through continuous innovation. Chocolate spread exporters India are famous for supplying high-quality products to their customers across the world.
Here are some of the crucial aspects that exporters of chocolate spread should consider carefully-
They should offer supreme quality chocolate spread that is processed under advanced and hygienic conditions without using chemicals.
They should have a team of quality experts who ensure that each batch passes through stringent quality checks.
They should have a team of skilled delivery experts to ensure the timely delivery of products to geographically distributed clients.
They should offer delicious and creamy chocolate spread in compliance with international food standards.
Conclusion
Thus, it can be concluded that chocolate spread is highly applauded for its mouth-watering taste. The increased innovations of dishes at eateries and food products have immensely boosted the demand for the chocolate spread.